Disclosure: This page contains affiliate links.
**All links on this page are affiliate links, meaning I get commissions for purchases made through those links on this page at no additional cost to you.
Are you looking for the cutest (and funniest) pregnancy tee shirts ever created?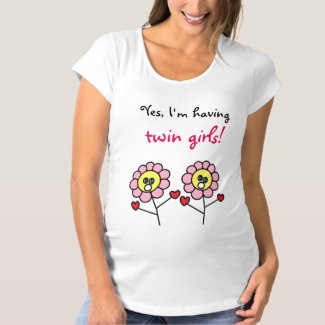 First of all a big 'Congratulations' to you and your husband!
You are pregnant!!
Pregnancy is the most beautiful moment in a couple's life!
You are carrying another life inside your body!
How marvelous is that? 🙂
I just came across some of the cutest pregnancy tee shirts for sale while randomly surfing the net…
I knew immediately that they deserved to have their own page here at Girly Women! 🙂
Some are very cute and adorable and others are hilarious!
There are even fun pregnancy tee shirts for twins!
These make awesome fun gift ideas for any pregnant lady in the family!
*How adorable is this fun twin pregnancy tee shirt above?
Look at the twin flowers!
So cute!
So creative! 🙂
I grow people what's your superpower Cute Maternity t-shirt
Cutest Pregnancy Tee Shirt for Women!
I grow people what's your superpower maternity t-shirt pregnancy tee Black
This is one of the best pregnancy tee shirts for women in my opinion!
It's cute, it's fun and it's pink! 🙂
What more could a girly mom-to-be want?
It is very comfy to wear!
We are hoping it's a T.rex Maternity Funny Pregnancy t-shirt!
Funny Pregnancy Tee Shirts for Sale!
We are hoping it's a T.rex Maternity Funny Pregnancy t-shirt
I also love this one!
It's hilarious!
Great funny gift idea for pregnant ladies! 🙂
Let me outta here Fun Maternity Pregnancy t-shirt
Top Cute and Funny Pregnancy Tee Shirts for Women!
Let me outta here maternity pregnancy t-shirt Black
This one says it all!
Baby wants out! Lol
(Must be really tight in there…)
Cute and Funny Vampire Teeth Pregnancy Tee Shirt!
Hahahaha!
This one is so cool!
A fun black and white maternity tee shirt with huge vampire teeth and the saying: 'Mommy… guess what!!'
You know what this means…
You are having a vampire!
Awesome funny gift idea for your pregnant wife! 🙂
Cool Baby Watching TV in the Womb Fun Maternity T-Shirts
CafePress Womb Potato Maternity Coral
Another cute, funny and very cool pregnancy tee shirt for sale is this baby watching TV inside the womb!
It's a future couch potato! 🙂
He is actually watching a music video!
Maybe he is a future rock star!
(You can get it in 4 different colors.)
Cute Twin Boys Print Maternity Tank Top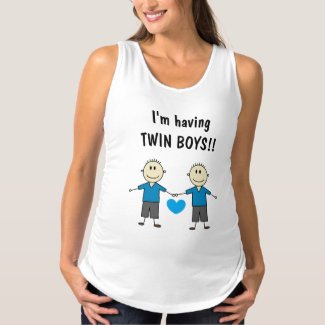 I'm having TWIN BOYS Adorable Stick Figure Boys Maternity Tank Top
I love this one too!
Perfect to tell everyone you are having a beautiful set of twin baby boys! 🙂
Also great to wear right after you have your first ultrasound and reveal the sex of the baby to the family!
Will make an awesome gift to the future mom of twin boys! 🙂
Cute Skeleton Print Maternity Pregnancy Tee Shirt
Fun Pregnancy Tees!
Cotton Skeleton Print Maternity Pregnancy Tees
Awww… I love this cute skeleton print pregnancy tee!
Love the cute red heart!
You can also get it in white, blue or black! 🙂
Super stretchy and comfy!
Cute, Funny and Fashionable Maternity Shirt!
This is a lovely, fun and very creative cute black color long-sleeved maternity tee shirt that says 'Almost time!' written below a cute smiley face!
Great way to announce to the family the baby is almost here! 🙂
Cute Pink Maternity T-Shirt
This is one of the most adorable pregnancy tee shirts ever!
It says 'Mommy and daddy love you very much!' written next to a cute red heart. Everyone will be saying 'Awwwwwww' when they see you wearing this…
(I bet you are going to make your own mom cry… 🙂
Fun Pink Twins Maternity Shirt!
Twins Peek A Boo: Maternity Cotton T-Shirt Hot Pink
How cool is this one?
It shows two cute babies playing 'peek a book' inside the womb! 🙂
Genius!
What a cool way to show off your pregnant belly!
Fun Twins Kicking Maternity T-Shirt
Best Twin Pregnancy Tee Shirts!
CafePress Twins Kicking Maternity T-Shirt Maternity Dark T-Shirt
Hahahahaha!
These siblings are already fighting!
What a fun twins maternity shirt for sale!
I love this bright orange color, but you can also get it in black, charcoal and blue!
Happy twin pregnancy! 🙂
Cute Twin Babies Pregnancy Shirt!
Cute Twin Pregnancy Shirt
Another cute and fun colorful twin babies pregnancy tee shirt for women!
The twins are peeking out and they seem happy! 🙂
The V-neck collar is very comfortable!
This cute shirt is also made from 100% cotton.
Funny Twin Pregnancy Tee Shirt!
CafePress Crowded in here, Funny twins Maternity Dark T-Shirt
This twin maternity t-shirt is also hilarious!
One twin says: 'It's a bit crowded in here'
And the other (upside down) says: 'You can say that again'
Awesome humorous gift idea for a pregnant mom of twins! 🙂
Are we there yet? Cool Twin Pregnancy T-Shirts!
CafePress Are we there yet? Twins Maternity Dark T-Shirt
This one is adorable!
The twins are asking 'Are we there yet'?
Very cute cotton tee shirt! 🙂
*Before you go, check out my whole collection of cute pregnancy tee shirts!
I hope you enjoyed these funny pregnancy t-shirts and were able to pick one for you! 🙂
I think you are also going to like these:
Cute Loose Fitting Tops!
(These are also perfect for when you need to disguise a few extra pounds…)